Vegetable Soup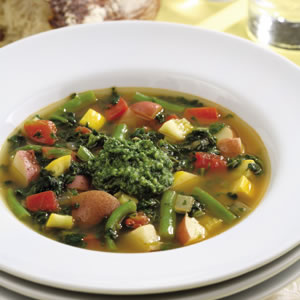 Ingredients:
1 onion
2 potatoes
1 carrot
1/4 of a head of celery
2 tomatoes
1 oz dripping
1/4 teaspoon pepper
2 pints stock or water
2 bay leaves, a pinch of dried thyme and of dried mint, and a blade of mace, tied in muslin, to form a bouquet garni.
1 oz flour

Method:
Prepare the vegetables according to type and cut into convenient pieces.
Melt the dripping in the pan, fry the onion, add all the other vegetables, and put the lid on the pan.
Saute vegetables, shaking well. Add seasoning, liquid and herbs; simmer until the vegetables are tender.
Sieve soup, reheat and stir in the flour, blended with cold water.
Bring to the boil, stirring well.
Back to Entrees from Vegetable Soup