Veal Scaloppine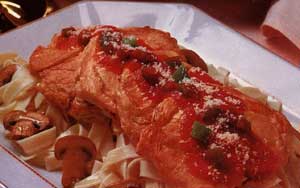 Ingredients:
3 tablespoons plain flour
2 teaspoons salt
3/4 teaspoon white pepper
1 kg veal fillets
4 tablespoons butter
2 cloves garlic
1 bay leaf
2 medium onions, sliced
tomato puree
brown sugar
1 cup stock
500g mushrooms
parmesan cheese
1/2 teaspoon oregano

Method:
Combine the flour, salt and pepper and coat the veal.
Heat the butter, and brown the veal.
Add garlic and onions and fry gently.
Remove, and fry mushrooms.
Pour tomato puree into the pan and add sugar.
Add stock and herbs and simmer for 5 minutes.
Return the veal and onions to sauce and cook for 30-40 minutes.
Serve with Parmesan cheese.
Back to Beef from Veal Scaloppine