Veal Fricassee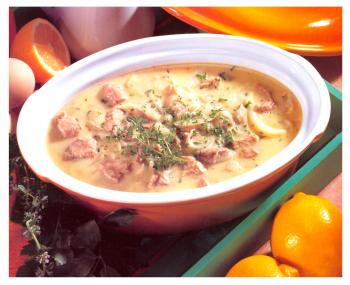 Ingredients:
1lb raw stewing veal
1 onion
2 carrots
1/2 turnip
Bunch of mixed herbs
1 clove garlic
4 peppercorns
Blade of mace (optional)
Strip of lemon rind
water
salt and pepper
2 oz butter
2 oz flour
juice of 1/2 a lemon
1 egg yolk
2-3 tablespoons cream
bacon, parsley and lemon to garnish

Method:
Cube the meat, removing skin or gristle.
Prepare and slice the vegetables.
Put both in a stewpan, with the herbs and spices (tied in muslin), and just cover with the water.
Add salt, cover and simmer very gently until the meat is tender - about 1/2 hours.
Strain off water and measure 1 pint.
Make a sauce with the butter, flour and pint of strained water. Add salt and pepper as necessary, then remove from the heat and stir in the lemon juice and egg yolk, beaten with the cream.
Reheat carefully without boiling.
Replace meat and vegetables and when hot, put on a hot dish and pour the sauce over.
Garnish with bacon rolls, etc.


Back to Beef from Veal Fricassee