Tangy Pork Spare Ribs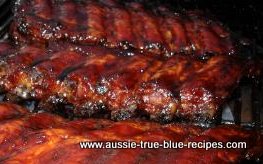 Ingredients:
1/2 cup orange juice
1/2 cup soy sauce
1/4 cup sliced lemon
2 teaspoon ground ginger
1 teaspoon granulated garlic
black pepper, salt

Method:
Combine all ingredients. Marinate the ribs for 2 hours.
Baste with the marinade while grilling or barbecuing.
Serve with hot garlic bread and a tossed green salad.
Back to Pork from Tangy Pork Spare Ribs