Sweet Beef Curry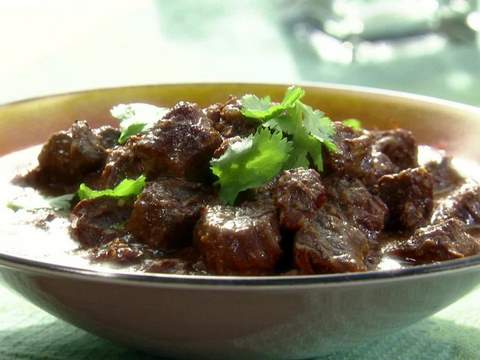 Ingredients:
1 kg round steak, chopped
1/4 cup oil
1-2 Tablespoons curry powder (to taste)
1 onion, chopped
1/4 cop chopped raisins
2 Teaspoons grated lemon rind
1 Tablespoon tomato sauce
1 Tablespoon fruit chutney
1 Tablespoon sugar
2 Beef Cubes, crumbled
2 Tablespoons water
1 apple, peeled and chopped
1 1/2 cups chopped dates
2 Tablespoons lemon juice
2 Teaspoons worcestershire sauce
2 cups water
2 Tablespoons cornflour
2 cups cooked rice
See how I built my website....
Method:
Heat oil in large pan, add meat in single layer.
Stir over high heat until meat is well browned.
Add onion, apple, raisins, dates, curry, rind and juice, sauces, chutney, sugar, water and stock cubes.
Bring to boil.
Reduce heat, simmer covered for about 1 1/2 hours or until meat is tender.
Stir in blended cornflour and water, stir until mixture boils and thickens.
Serve with rice.


Back to Beef from Sweet Beef Curry