Sugar Coated Peanuts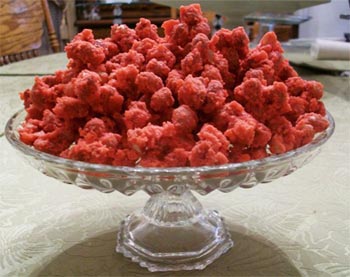 Ingredients:
This olden goldie Recipe is simple to do, but produces long lasting effects so beware - your friends and neighbours will be visiting unannounced forever, waiting for the next batch...
1/2 lb raw peanuts
1/2 lb sugar
1/2 cup water
1 Teaspoon rose colouring
Method:
Place ingredients in saucepan on medium heat.
Stir occasionally with a wooden spoon.
When the water comes to a boil (approximately 20 minutes depending on heat), tip quickly onto greased tray and separate with wooden spoon.
Allow to cool. Store in screw top jar.


Back to Confectionary from Sugar Coated Peanuts