Strawberry Banana Muffins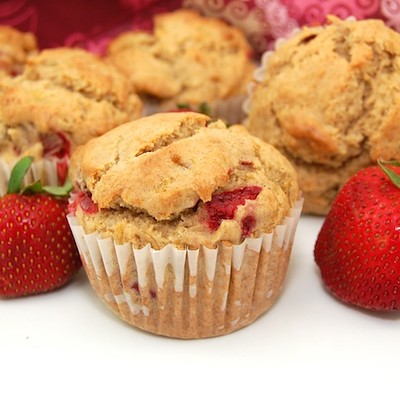 Ingredients:
1 3/4 cups wholemeal flour (can use plain flour if desired)
2 eggs
1/2 cup apple sauce
3 tablespoons vegetable oil
185g dark brown soft sugar
1 teaspoon vanilla essence
3 ripe bananas, mashed
1 teaspoon bicarbonate of soda
3 teaspoons ground cinnamon
250g fresh stawberries

Method:
Preheat oven to 190°C. Place muffin cases in muffin tray.
In a large bowl, whisk together the eggs, apple sauce, oil, brown sugar, vanilla essence and bananas.
Combine the flour, bicarbonate of soda and cinnamon - stir into the banana mixture until just moistened.
Fold in the strawberries until evenly distributed.
Spoon batter into muffin cases.
Bake in preheated oven for 20 minutes or until the tops of the muffins spring back when pressed lightly.
Cool before removing from the muffin tray.
Back to Muffins from Strawberry Banana Muffins