Sponge Flan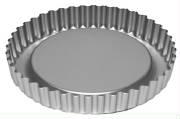 Nothing, but nothing, beats a Sponge Flan as a dessert. Filled with whipped cream and fresh berries, (or anything you desire)this dessert is absolutely delicious.
The image to the left is the special Sponge Flan tin that will be necessary to make this dish. These are easily available from Kitchenware Direct who will ship it to you immediately. I thoroughly endorse Kitchenware Direct, as their products are not only affordable - but of a quality that is difficult to find in other retail stores.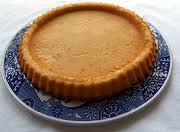 This image shows an un-filled Sponge Flan after it has been baked.
The recipe below is to make simply this sponge mixture, though suggestions for fillings will follow.


Ingredients:
3 eggs
3 oz caster sugar
3 oz flour
pinch of salt

Method:
Break the eggs into a bowl, add sugar, and whisk by hand or with a beater until very thick and light.
When the mixture will retain an impression if the whisk is drawn across it, sift in the flour and salt.
Gently fold in the flour by "cutting" a metal spoon through the mixture. Do not beat the mixture.
Pour into an 8-inch sponge flan tray, and bake at 220°C for 10 minutes until golden and springy to the touch.
Turn the baked flan onto a wire tray to cool, and then fill as desired.
Suggested Fillings:
Blackberry Sponge Flan - Fill a sponge flan with some large dessert blackberries. Dissolve 1/4 - 1/2 oz gelatine in 1/2 pint sweetened blackberry juice and when almost set, pour it over the fruit.
If preferred, use 1/2 pint of table jely, made up according to instructions, and pour over when almost set.
Cherry Sponge Flan - Fill a sponge flan with stoned dessert or tinned cherries. Allow 1/2 lb of fresh fruit or 1 medium tin. Cover with lemon jelly which is just beginning to set. Decorate with whipped cream, and keep cold until required.
Strawberry Sponge Flan - Make a thick custard and partly fill the Sponge Flan. Arrange sliced strawberries over the top of the custard. Once the custard is completely set, gently pour over a layer of strawberry-flavoured jelly which is almost set. Decorate with whipped cream, and keep cold until required.
Fruit Salad Flan - Make a thick custard and partly fill the Sponge Flan. Arrange any fruit you desire on top of the custard layer - oranges, grapes, strawberries, bananas, apple slices, manderin, passionfruit, pineapple, lemon slices. Cover with a thin layer of jelly (any flavour you desire) that is almost set. Decorate with whipped cream (if desired) and keep cold until required.

If you would like to see my demonstration of how to make the perfect Flan, please see my video below:


Summer Fruit Flan - Video Demonstration


Back to Sponge Cakes from Sponge Flan


To Summer Fruit Flan from Sponge Flan