Smoked Cod in White Spring Onion Sauce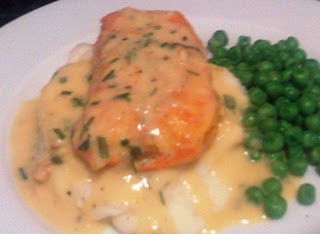 Ingredients:
This recipe for Smoked Cod in Sauce is one of my favourites - and conjures up all kinds of memories of when my mother would cook this meal for the family.
The fish itself has a beautiful texture and flavour (being smoked) and the creamy sauce just finishes it off completely.
750g - or 4 pieces - smoked cod or haddock
220g can champignons, drained
1 cup milk
dash of seasoned pepper
1/2 teaspoon grated nutmeg
1 tablespoon flour
1 cup cream
1/3 cup chopped shallots (spring onions)

Method:
In a large pan, place the fish, champignons, milks, pepper and nutmeg and bring it to the boil. Basically, you are poaching the fish in the milk.
Cover and simmer gently for 15 minutes.
Carefully remove fish and keep hot.
Add spring onions and gently fry off. Blend the flour with a little of the milk and add this to the liquid.
Stir until boiling; remove from heat and fold in the cream, heating but not boiling.
Add the fish back to the sauce, being careful not to break the fish apart, and spoon sauce over the fish so that it is completely submerged in the sauce.
Serve the fish with a plentiful supply of the sauce - wonderful accompanied with mashed potato and green peas.
Back to Seafood from Smoked Cod in Creamy Sauce