Rump Steak And Olive Casserole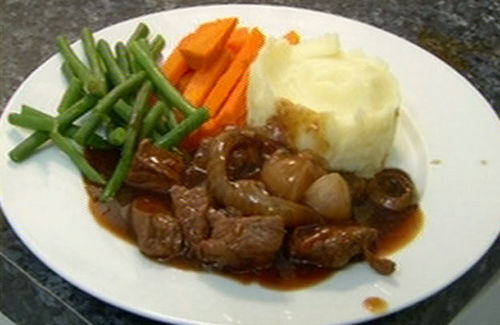 Ingredients:
This Rump Steak and Olive Casserole is totally delicious - served with mashed potatoe, carrots and beans....a good hearty meal for a cold winter evening.
500g rump steak
3 tablespoons oil
1 carrot, sliced
2 small onions, sliced
3 stalks celery, sliced
1 1/4 cup red wine
1/2 cup wine vinegar
2 tablespoons chopped parsley
1 clove garlic, crushed
4 peppercorns
salt and pepper
375g bacon
125g black olives, halved and pitted
4 tomatoes

Method:
Heat the oil in a saucepan. Saute the carrot, onions and celery for ten minutes. Add half the red wine, all the vinegar, parsley, garlic, peppercorns and salt and pepper to taste.
Bring to a boil, reduce heat and simmer for 15 minutes. Cool.
Cut the meat into cubes and cover with strained marinade. Allow to stand for about one hour.
Fry the bacon until crispy. Remove the bacon and brown the drained steak. Put into a casserole dish. Add the marinade to the meat with the bacon, wine and olives.
Cover and cook in a 160°C oven for about two hours. Add sliced tomatoes for the last 15 minutes of cooking.


Back to Beef from Rump Steak And Olive Casserole