Roast Pork Belly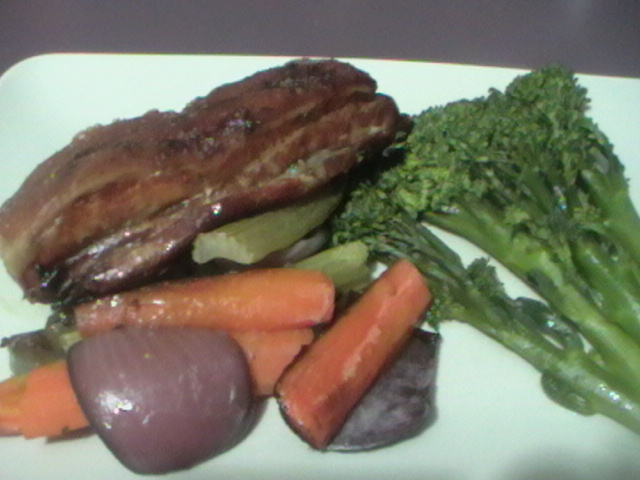 Ingredients:
Pork Belly is making a HUGE comeback into Australian cuisine - this video shows you the basic way to roast a Pork Belly.
1 full pork belly or pork belly sections
salt
black pepper
carrots
red onions
celery
whole garlic

Method:
Preheat your oven at 220°C.
Place the Pork Belly skin side up on a chopping board, and score the skin (no deeper than 1cm). Make sure that the surface of the skin is dry, and then rub a liberal amount of salt into the skin.
It is this rubbing of salt that will make a fantastic crackling for your Pork Belly.
Flip the Pork Belly over and season with salt & black pepper.
Place Pork Belly in a Roasting Tray and place in the oven (middle shelf) and roast at 220°C for 30 minutes.
(Don't add any oil or fat - there's enough fat in Pork).
Once the Pork Skin puffs up (after 30 minutes), turn the oven down to 180°C and roast for another hour.
After the pork has been roasting for an hour, baste the pork with the pork fat that has drained to the base of the pan.
Add some carrots, red onions, celery and cloves of garlic to the pan, and place the pork on top of the vegetables to roast for one more hour.

Roast Pork Belly - Video Demonstration
Back to Pork Recipes from Roasted Pork Belly