Ratatouille in Pepper
This is an unusal and attractive way to serve the colourful vegetable stew ratatouille. Eat the peppers hot with grilled or pan-fried meat, or cold with cold meats. This recipe can be used as a side dish, or as a delicious vegetarian main course.

Ingredients:
1 small aubergine or eggplant, cut into 1cm cubes
2 teaspoon salt
6 Tablespoons oil
1 small onion, chopped
1 garlic clove, crushed
2 small courgettes or zucchinis, thinly sliced
60g mushrooms or champignons, wiped and sliced
2 medium red peppers (capsicum for aussies), halved lengthways and deseeded.
200g tin tomatoes
1/2 teaspoon dried basil
1/2 teaspoon sugar
salt and pepper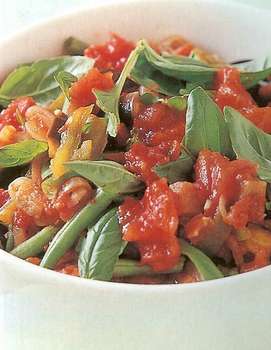 Method:
Put the aubergine cubes in a collander or sieve and sprinkle with the salt (this draws out any bitter juices). Press them down with a plate and some weights and allow to stand in the sink for 30 minutes.
Heat the oven to 230°C.
Heat 1 tablespoon of oil in a medium saucepan and gently fry the onion for about 8 minutes. Stir in the garlic and continue cooking for a further 2 minutes, then remove onions and garlic with a slotted spoon.
Add 1 tablespoon of oil to the pan and gently fry the courgettes and mushrooms for 10 minutes, or until soft but not brown. Remove from the pan and place them with the onion mixture.
Rinse the aubergine cubes and pat dry with kitchen paper. Add 2 tablespoons of oil to the pan, and gently fry the aubergine for 15 minutes, or until tender.
Meanwhile, arrange the peppers in a roasting tin, and brush them well with oil. Place in the centre of the onion and roast for 30 minutes, or until tender.
Return the onion, courgette and mushroom mixture to the pan along with the tomatoes, basil, sugar, salt and pepper. Bring to the boil then simmer, uncovered for 20 minutes.
To serve hot: spoon the ratatouille into the roasted peppers.
To serve cold: spoon the ratatouille into the peppers and chill.
Back to Salad And Vegetable from Ratatouille in Pepper