Pumpkin And Date Muffins (with Almonds)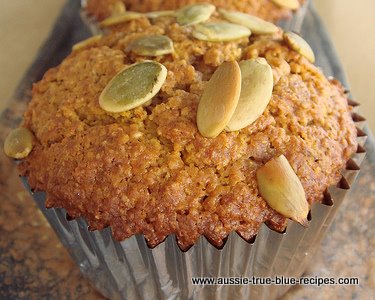 Ingredients:
1 1/2 cups plain flour
1/2 cup sour cream (reduced fat if desired)
1/2 cup buttermilk
2 eggs, lightly beaten
1 cup cooked and pureed pumpkin
1/4 cup chopped almonds
1/2 cup chopped dates
salt
1/2 teaspoon bicarbonate of soda
2 teaspoons baking powder
1/3 cup firmly packed light brown sugar

Method:
Preheat the oven to 180°C. Place muffin cases in muffin tray.
Stir together the flour, sugar, baking powder, bicarbonate of soda and a pinch of salt in a large bowl.
Stir in the dates and almonds
In a separate bowl, combine the pureed pumpkin, eggs, buttermilk and sour cream.
Make a well in the centre of the dry ingredients and pour in the pumpkin mixture.
Stir just until combined.
Spoon into the prepared muffin cups and bake for 30-35 minutes or until an inserted toothpick comes out clean.
Back to Muffins from Pumpkin And Date Muffins