Pound Cake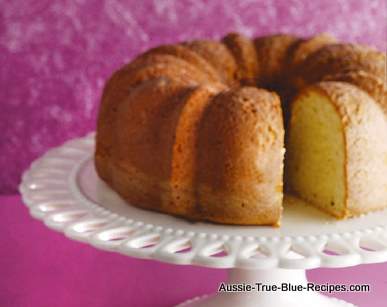 Ingredients:
This Pound Cake recipe will become one of your favourites - so reliable, tried and tested in my own kitchen many times.
3 cups fresh raspberries, strawberries or stoned cherries, or a combination of any of these.
1 cup caster sugar, plus extra for sprinkling
1 tablespoon lemon juice
1 1/2 cups plain flour
2 teaspoons baking powder
pinch of salt
1/4 cup butter, softened
3 eggs
grated rind of 1 orange
1 tablespoon orange juice

Method:
Reserve a few whole fruits for decorating.
In a food processor fitted with the metal blade, process the remaining fruit until smooth. Add 2 tablespoons of the sugar and the lemon juice, then process again to combine. Strain the sauce and chill.
Base-line and grease your cake tin. Sprinkle the base and sides of the tin lightly with sugar and tip out any excess.
Preheat the oven to 180°C.
Sift the flour with the baking powder and salt. In a medium bowl, beat the butter until creamy. Add the remaining sugar and beat for 4-5 minutes until very light and fluffy, then add the eggs, one at a time, beating well after each addition. Beat in the orange rind and juice.
Gently fold in the flour mixture in batches, then spoon the mixture into the prepared tin and tap gently to release any air bubbles. Bake for 35-40 minutes until the top of the cake is golden and springs back when touched.
Cool in the tin for 10 minutes, then transfer the cake to a wire rack and cool for 30 minutes more.
Remove the lining paper and serve slices or wedges of the warm cake with a little of the fruit sauce. Decorate with the reserved fruit.