Pot Roast (with tomatoes and onions)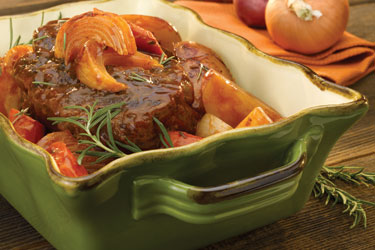 Ingredients:
1.5kg round steak
2 cloves garlic
little butter or oil
1/2 teaspoon dried rosemary
2 medium onions
1/2 teaspoon salt
3/4 teaspoon white pepper
2 teaspoons prepared mustard
3 large tomatoes
1/2 cup beef stock

Method:
Preparing the vegetables, peel and slice tomatoes, slice onions.
rim the excess fat from meat, and heat oil in a heavy saucepan.
Brown the meat on all sides to lock in the flavour and moisture, then season with salt and pepper.
Add rosemary and spread the meat with mustard.
Add tomatoes, onions and stock to the pan.
Cover tightly and simmer until the meat is tender.
Check the liquid during cooking time. If more liquid is necessary, add a little tomato juice or stock if preferred.
Back to Beef from Pot Roast