Loin of Pork With Sesame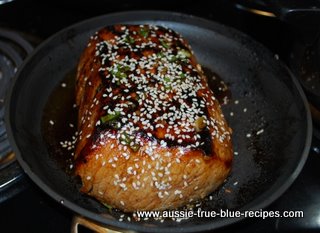 Ingredients:
1kg pork loin
1 large onion
black pepper
3 teaspoons wholewheat flour
1 slice lemon
1 tablespoon toasted sesame seeds
3 tablespoons lemon juice
5 tablespoons sherry
2 tablespoons water

Method:
Place the loin in a snugly fitting overproof dish.
Thinly slice the onion and place around the meat.
In a separate bowl, mix together the lemon juice, sherry and water and pour over the meat.
Finally, sprinkle over the sesame seed and season with a little black pepper.
Cover the dish and cook at 180°C for 1 hour and 45 minutes, basting frequently.
Remove from the oven and place loin on a heated serving dish.
Pour the juices into a small pan, carefully blend in the flour, and heat, stirring constantly, until the sauce thickens.
Pour sauce over the loin, garnish with the slice of lemon and serve.
Back to Pork from Pork With Sesame