Pork Mince and Noodle Casserole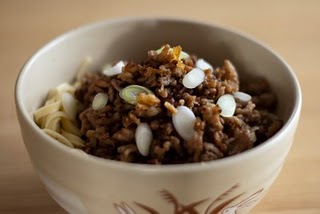 Ingredients:
It's so difficult to find tasty meals that young children and adults can both enjoy - so try this Pork Mince and Noodle Casserole on for size.
250g uncooked noodles
375g ground pork
2 medium onions, chopped
2 cups diced celery
1 green pepper, chopped
salt and pepper
1 tin tomato soup
1/2 teaspoon worcestershire sauce
1/2 cup grated cheese

Method:
Cook noodles in boiling salted water. Drain
Brown meat in hot oil. Add onions, celery and green pepper.
Cook until vegetables are tender.
Season to taste with salt and pepper.
Alternate layers of meat and noodles in a well-buttered casserole.
Mix condensed soup with Worcestershire sauce and pour over meat and noodles.
Sprinkle with cheese and bake in a 180°C oven for 45 minutes.
Back to Pork from Pork Mince and Noodle Casserole