Pork And Prune Casserole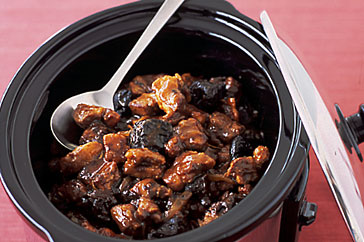 Ingredients:
Nothing beats Pork And Prune Casserole for outstanding hearty flavour. I can still hear my mother's words "prune keep you regular"...hehe. Try this one out, when you're looking for something quick and easy to prepare, but with oodles of flavour.
250g prunes
juice and rind of one lemon
750g pork
4 tablespoons plain flour
salt and pepper
2 tablespoons butter or margerine

Method:
In a saucepan, cover the prunes with cold water. Allow to soak for one hour, then cook over a low heat with the lemon rind for 15 minutes.
Drain the prunes and reserve the liquid. Remove stones from the prunes.
Cut the pork into bite-size pieces and toss in the seasoned flour.
Heat the butter or margarine in a frypan and brown the pork.
Put the prunes and pork in a casserole dish. Make a gravy with the remaining butter, flour and prune liquid.
Pour over the pork. Stir in lemon juice.
Cover and cook in a 180°C oven for one hour.
Back to Pork from Pork And Prune Casserole