Plain Scones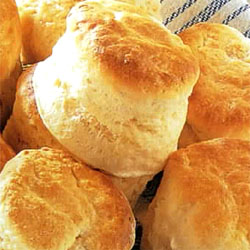 Ingredients:
These scones are real winners - but care MUST be taken to use a knife where indicated - and not to over-work the dough.
3 cups self-raising flour
1/2 teaspoon salt
1 1/4 cups fresh milk
1 dessertspoon melted butter

Method:
Sift flour and salt together twice. Melt butter and add to milk.
DO NOT HAVE MILK TOO COLD
Then add flour, cutting through with a knife.
Knead LIGHTLY on a floured board. Press out with the hand - DO NOT ROLL - and cut into round scones.
Let scones stand for five minutes before cooking.
Cook in a fairly hot oven for 15 minutes, or until scones are golden on top.
Cover scones when you take them out.