Orange Butter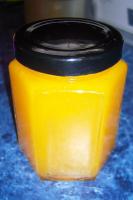 Ingredients:
Orange Butter is nowhere near as popular as Lemon Butter, but is just as delicious. This spread is ideal on toast and scones, but moreso as tarlet filling, or even to sandwich sponge cakes.
Oranges do not contain the same amount of pectin as Lemons, therefore this recipe calls for a small amount of gelatine to assist in the setting process.
2/3 cup sugar
2 teaspoons greated lemon rind
2 teaspoons grated orange rind
4 egg yolks
1 cup orange juice
125g butter
1/4 cup lemon juice
1 teaspoon gelatine
2 tablespoons water
30g mixed peel (or zest of both orange and lemon)

Method:
Place the sugar, lemon rind, orange rind and egg yolks into the top of a double saucepan.
Stir until all ingredients are combined.
Gradually add strained orange juice and lemon juice, and stir until combined.
Add roughly chopped butter, and place the pan over simmering water.
Stir until mixture thickly coats the back of a wooden spoon. Sprinkle gelatine over cold water, stir until combined.
Add gelatine mixture to orange butter and stir until gelatine is dissolved.
Allow to become cold, then add finely chopped mixed peel.
Pour into hot sterilized jars and seal.
Store in refrigerator.
This mixture makes about 2 1/2 cups of Orange Butter.


Back to Conserves And Preserves from Orange Butter