Mustard Pork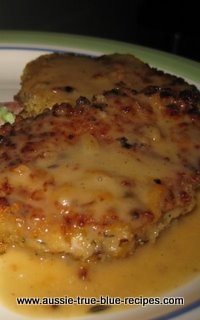 Ingredients:
1 large onion
6 small sage leaves
2 tablespoons french mustard
650 ml water
3 cups bean sprouts
1 tablespoon oil
1/2 teaspoon paprika
600g pork fillet

Method:
Thinly slice the onion and finely chop teh sage leaves.
Gently fry both in the oil until the onion is soft.
Stir in the paprika.
Cut the pork into pieces, approximately 3cm long and 1/2 - 1 cm wide and thick.
Add pork pieces to the onion and cook over a high heat for two minutes to seal the outside, stirring frequently.
Stir in the mustard and water and boil gently with the pan uncovered for one hour.
Add the bean sprouts, cook for a further two minutes, then serve on a bed of freshly steamed rice.
Back to Pork from Mustard Pork