Mustard Pickles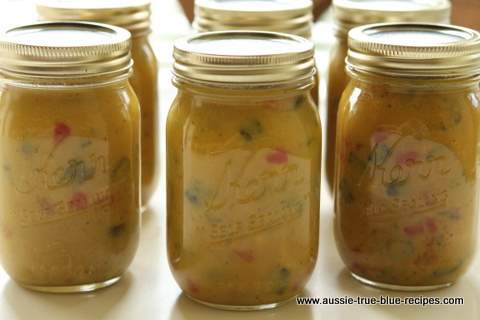 Ingredients:
There is no special equipment needed for Mustard Pickles, but because of their acidity, be sure to use stoneware, pottery, glass or plastic bowls for brining.
Store pickles in clean glass jars, preferably with glass lids.
1 1/2 lb small cucumbers, sliced
8oz green tomatoes, diced
1 lb small white onions, peeled
3 green peppers, cored, seeded and diced
1/2 cauliflower, cut into small pieces
1/4 cup salt
5 cups cold water
1/2 cup flour
3 tablespoon dry mustard
1 tablespoon turmeric
4 cups cider vinegar
1 cup sugar

Method:
Put cucumbers, tomatoes, onions, peppers and cauliflower in a large bowl.
Mix salt with water, pour over vegetables, cover and let stand for 8 hours or overnight.
Drain and rinse under cold running water.
Put vegetables in a large saucepan, cover them with fresh cold water and bring to the boil.
Drain in a colander once again.
Put flour, mustard and turmeric in the pan.
Stir in enough vinegar to make a smooth paste, then gradually add remaining vinegar and sugar, stirring well.
Bring to the boil, stirring constantly, and cook until thick and smooth.
Add vegetables and cook, stirring, until heated through.
Spoon into hot, sterilized jars filling completely and seal.
Makes about 10 cups.
Back to Conserves And Pickles from Mustard Pickles