Mother's Easter Cake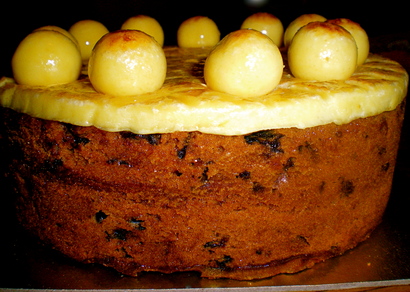 Ingredients:
1/2 lb butter
2 eggs
1/2 cup treacle
1/2 Teaspoon baking soda
2 cups self-raising flour
1 packet mixed fruit
1/2 lb sugar
pinch of salt
1/4 cup strong coffee
1 Tablespoon warm water
1/2 Teaspoon cinnamon

Method:
Beat butter and sugar to a cream. Add eggs, one at a time, beating well aftr each.
Add pinch of salt, then pour in treacle and coffee. Dissolve soda in warm water and add to mixture. lastly add alternately, a little at a time, of the sifted flour and cinnamon and mixed fruit.
Stir well. Bake in a moderate oven for 2 - 2 1/2 hours.