Mexican Beef Casserole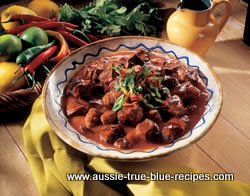 Ingredients:
1kg round or chuck steak
2 tablespoons Mexican chilli powder
1 clove garlic, minced or mashed
1/4 teaspoon pepper
2 tablespoons prepared mustard
1 chopped onion
3/4 cup boiling water
2 tablespoons oil
2 tablespoons butter
1/2 cup uncooked long-grain rice
1 large can tomatoes
1 can red kidney beans
1 beef stock cube
1 teaspoon paprika

Method:
Spread meat with a mixture of half the chilli powder, garlic, pepper and prepared mustard, and cut it into 2.5 centimetre squares. Alternatively - you can place these ingredients into a bag to coat them.
Fry the onion in oil and butter until golden.
Put half the meat in the bottom of a large casserole and cover with half the onions.
Sprinkle with half the rice and add half the tomatoes.
Repeat layers.
Top with the beans mixed with remaining talbespoon of chilli powder.
Sprinkle with paprika.
Bake uncovered ina moderate oven (180°C) for about 2 hours, adding more stock if needed.
Back to Beef from Mexican Beef Casserole