Meatloaf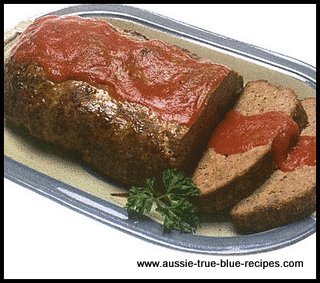 Ingredients:
600g lean minced beef (ground beef)
1/2 cup fresh breadcrumbs
1/2 capsicum (red pepper)
1 carrot
1 large onion
soy sauce (good splash)
Pepper (good shake)
1 Teaspoon minced garlic
Oregano
Tarragon
1 egg
1/2 pkt French Onion Soup mix
Home made

Method:
Grate capsicum, carrot and onion.
Mix all ingredients together with your hands, until all of the vegetables, egg, sauces, spices and breadcrumbs are well combined.
Push into a greased loaf pan using your hands.
Cook in a moderate oven for 1-2 hours.
Pour BBQ sauce over top as a glaze.
Place back in oven until ready to serve.
Back to Beef from Meatloaf