Luxury Loaf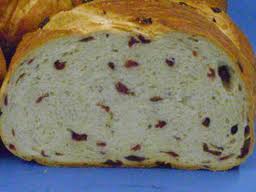 Ingredients:
10 oz plain flour
1/2 teaspoon salt
2 level teaspoons baking powder
1/3 teaspoon grated nutmeg
6 oz butter (or other fat substitute)
8 oz caster sugar
1 teaspoon vanilla essence
greated rind of 1 orange
5 eggs
3 tablespoons orange juice
1 oz chopped walnuts
2 oz finely grated chocolate
sugar to dredge

Method:
Line a loaf tin measuring 10 x 5 x 3 inches. Sieve together the flour, salt, baking powder and nutmeg.
Cream the butter, sugar, essence and orange rind until light and fluffy.
Add the eggs, one at a time, beating well after each addition.
Add the flour mixture, alternately with the orange juice, and fold in the nuts and chocolate.
Pour into the loaf tin, and bake for 1 hour 40 minutes in a slow oven (160-165°C). Allow to cool in the tin.
Dredge with sugar before serving (or not, entirely up to you).
Back to Bread from Luxury Loaf