Lobster Mornay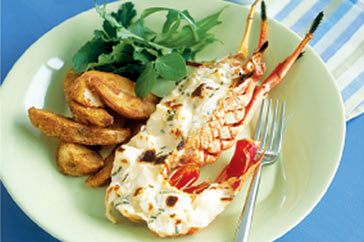 Ingredients:
If you're lucky enough to live close to where you can legally obtain Lobster straight from the rocks or beach (like me), then this Lobster Mornay recipe is one that you will make good use of.
If not...Lobster is a little expensive, so probably just for those "special" meals.
This said, this recipe is not difficult to make - but will delight all those who sample it.
1 cooked lobster, split in half
3 tablespoons butter
2 tablespoons flour
1 cup milk
salt
dash of cayenne pepper
1/2 cup grated cheese
1/2 cup cream
chopped parsley
boiled rice

Method:
Remove lobster meat from the shell and claws and set aside. (I usually give them a bit of a scrub under a running tap, as these will be used again for presentation).
Place shells on a grill tray.
Melt 2 tablespoons butter in a pan, stir in flour and cook, stirring, until bubbly.
Tradually stir in milk and bring to the boil, stirring constantly.
Remove from the heat, and fold in 1/2 the cheese, all the cream and the lobster meat.
Spoon mixture into lobster shells, sprinkle with the remaining cheese and dot with remaining butter.
Place under pre-heated grill and cook 8-9 minutes to brown.
Serve lobster mornay on a bed or rice, accompanied with a fresh garden salad. Back to Seafood from Lobster Mornay