Lemon Coconut Cake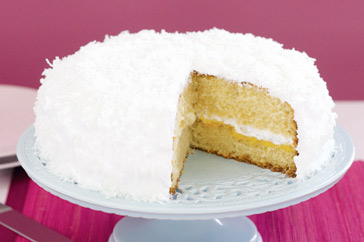 Ingredients:
I still remember 20 years ago, when my elderly neighbour first gave me a slice of this Lemon Coconut Cake. She refused to share the recipe for 9 years - but as she became less spritely, she called me to the fence one day and passed it over, written on the back of a flour packet.
I will always treasure this recipe, as one from a "true blue" Aussie icon herself. A wonderful lady, a wonderful cook - and once of the nicest people I have ever met.
1/2 cup coconut
1/2 cup lemon juice
1 cup milk
125g butter
1 1/4 cups sugar
2 1/4 cups self-raising flour
3 eggs
2 teaspoons grated lemon rind

Method:
Combine coconut, lemon juice and 1/2 cup milk in a bowl.
Mixture will probably curdle at this point but reconstitutes to correct consistency when combined later with flour.
Cream butter, sugar and lemon rind until light and fluffy, add well-beaten eggs gradually, beating well after each addition.
Fold in sifted flour, remaining milk and the coconut mixture alternately.
Pour into greased and lined deep 20cm round cake tin.
Bake in a moderate oven for approximately 1 hour or until cooked when tested.
Although my neighbour never iced this cake, it is delicious with a lemon butter icing, and sprinkled with coconut (either toasted or plain).
Back to Cakes from Lemon Coconut Cake