Lemon Butter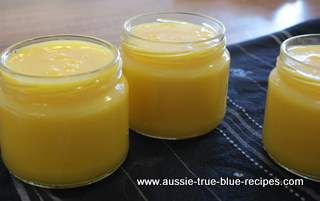 Ingredients:
Lemon Butter is delicious on toast or scones, but even more satisfying as the filling for small cakes and tartlets.
If you have a citris tree currently in abundance, why not make good use of the fruit by preserving as Lemon Butter or even Marmalade. This old recipe has been handed down through my husband's family and is a good one - having tried and tested it in my own kitchen, I can definitely vouch for it.
4 eggs
3/4 cup sugar
1/2 cup lemon juice
1/4 cup water
2 teaspoons grated lemon rind
125g butter

Method:
Beat eggs well, and then place into top of double saucepan. Add sugar. Stir until well combined.
Grardually, add lemon juice and water and stir until combined.
Add the lemon rind, and roughly chopped butter.
Place the pan over simmering water and stir until mixture thickly coats the back of a wooden spoon.
Pour into hot sterilized jars and seal.
Store in the refrigerator.
This recipe makes approximately 3 cups (or cup-sized jars) of Lemon Butter.



Back to Conserves And Preserves from Lemon Butter