Lamb With Mint And Lemon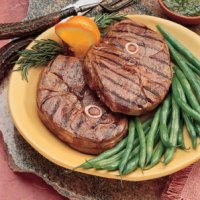 Ingredients:
8 lamb steaks
grated rind, and juice of 1 lemon
2 cloves garlic, peeled and crushed
2 spring onions, finely chopped
2 teaspoons finely chopped fresh mint leaves
extra mint leaves for garnishing
4 tablespoons extra virgin olive oil
salt and black pepper

Method:
Make a marinade for the lamb by mixing all the other ingredients and seasoning to taste.
Place the lamb steaks in a shallow dish and cover with the marinade. Refrigerate overnight.
Grill the lamb under a high heat until just cooked, basting with the marinade occasionally during cooking. Turn once during cooking.
Serve garnished with fresh mint leaves.