Lamb Provencale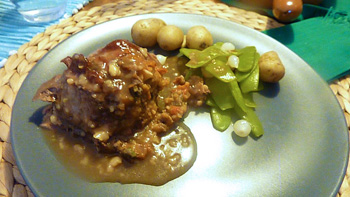 Ingredients:
1 Talbespoon oil
30g butter
1 clove garlic, crushed
1 Tablespoon tomato paste
1/4 cup water
1 green pepper, chopped
2 Teaspoons water, extra
1 Tablespoon chopped parsley
1kg lamb chops
1 onion, chopped
410g can tomatoes
1/2 cup dry white wine
250g zucchini, chopped
2 Teaspoons cornflour
2 Tablespoons chopped olives

Method:
Heat oil in large pan, add chops ina single layer, cook over high heat until well browned on both sides. Drain.
Place chops in heatproof dish. Heat butter in pan, add onion and garlic, cook, stirring until onion is soft.
Stir in undrained crushed tomatoes, paste, wine and water.
Pour tomato mixture over chops, cover and bake in moderate oven for 30 minutes.
Add zucchini and pepper, cover and bake for a further 10 minutes.
Stir in blended cornflour and extra water. Stir over heat until mixture boils and thickens or return to oven, covered. Cook for a further 5 minutes or until mixture boils.
Stir in olives and parsley just before serving.



Back to Lamb from Lamb Provencale