Lamb With Mint Casserole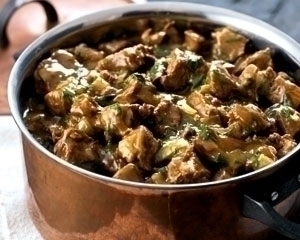 Ingredients:
5 lamb chops of 500gm diced lamb
1 tablespoon butter
1 tablespoon chopped mint
1/2 teaspoon salt
1 cup water
3 tablespoons seasoned plain flour
1 chicken stock cube
1 teaspoon sugar
1/8 teaspoon white pepper
lemon juice

Method:
If you have chosen to use chops for this recipe, trip any fat away from the chops - leaving them nice and lean.
Season chops (or diced lamb) with flour.
Melt butter and add mint and meat, and brown.
Transfer to casserole dish.
Add remaining flour to butter in pan and cook for 3 minutes.
Remove from heat and gradually add water in which stock cube has been dissolved.
Add lemon juice and sugar, pour over meat.
Cover and bake in a moderate oven 180°C for 1-1 1/2 hours.
Season to taste.
Serve immediately.
Back to Lamb from Lamb With Mint Casserole