Lamb And Leeks
(with Mint and Spring Onions)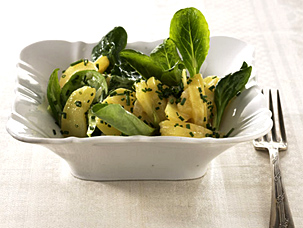 Ingredients:
This Lamb And Leeks recipe is prepared with an accompaniment of Mint and Spring Onion - and is the perfect year-round recipe. Refreshing, and full of tender lamb taste - this will quickly become a recipe you mark amongst your favourites.
2 tablespoon sunflower oil
2 kg lamb (fillet or boned leg)
10 spring onions, thickly sliced
3 leeks, thickly sliced
1 tablespoon flour
150ml white wine
300ml chicken stock
1 tablespoon tomato puree
1 tablespoon sugar
salt and pepper
2 tablespoon fresh mint leaves, finely chopped, plus a few more to garnish
115g dried pears
1 kg potatoes, peeled and sliced
30g melted butter

Method:
Heat the oil and fry the cubed lamb to seal it. Transfer to a casserole.
Preheat the oven to 180°C.
Fry the onions and leeks for 1 minute, stir in the flour and cook for another minute.
Add the wine and stock and bring to the boil.
Add the tomato puree, sugar, salt and pepper with the mint and chopped pears, and pour into the casserole.
Stir the mixture.
Arrange the sliced potatoes on top and brush with the melted butter.
Cover and bake for 1 1/2 hours. Then increase the temperature to 200°C and cook for a further 30 minutes uncovered, to brown the potatoes.
Garnish with mint leaves.
Back to Lamb from Lamb And Leeks