Hot Cross Buns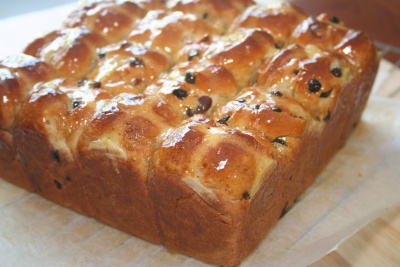 Ingredients:
12 oz flour
good pinch salt
1 oz butter or substitute
4 oz dried fruit
2 oz candied peel
1/2 oz yeast
approx 3/4 pint of tepid water, milk and water or milk (your choice - but I prefer milk)
1-2 oz sugar
1 oz sugar for glaze
1 tablespoon water

Method:
The spice should be sieved with the flour.
Cream yeast yeast with a teaspoon of sugar. Add tepid liquid and a sprinkling of flour. Put into a warm place until the "sponge" breaks through.
Meanwhile sieve the flour, salt and spice into a warm bowl.
Rub in butter, and add sugar, fruit and peel.
When ready, work in yeast liquid and knead thoroughly.
Put into a warm place for approximately 1 hours or until the dough is double its original size.
The cross should be marked before proving. Do this with the back of a knife or by cutting thin strips of pastry and arranging on the top.
Alternatively, a paste can be made by combining flour and water, and piped onto the top of the buns.
Form into round buns and "prove" for 15 minutes on a warm tray.
Bake for 10 minutes in a very hot oven.
If buns are to be eaten straightaway, mix 1 oz sugar and 1 tablespoon of water, and glaze with this.
If, as so often happens, they are to be warmed again on Good Friday, make up glaze and brush after re-heating.
Back to Bread from Hot Cross Buns