Green Bean Soup with Parmesan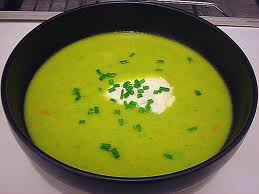 Ingredients:
This delightful summer soup will make the most of a home-grown crop of green beans - and tastes delicious.
25g butter
225g green beans, trimmed
1 garlic clove, crushed
475 ml vegetable stock
50g Parmesan cheese
60ml single cream
30 ml chopped fresh parsley
salt and freshly ground black pepper

Method:
Melt the butter in a saucepan and cook the green beans and garlic for 203 minutes over a medium heat, stirring frequently.
Stir in the stock with salt and pepper to taste.
Bring to the boil.
Reduce the heat and simmer for 10-14 minutes until the beans are tender.
Process the soup in a blender until smooth.
Return it to the clean pan, and heat gently.
Stir in the Parmesan and cream.
Sprinkle with the parsley and serve.


Green Bean Soup With Parmesan