Gingerbread Cake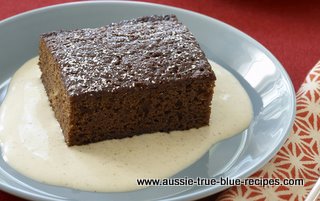 Ingredients:
1/2lb flour
2 1/2 teaspoons ground ginger
2 teaspoons baking powder
1/2 teaspoon bicarbonate of soda
1/2 teaspoon salt
4 oz brown sugar
3 oz margarine
6 oz syrup
1/8 - 1/4 pint milk
1 egg

Method:
Grease and line an 8" square cake tray.
Sieve the dry ingredients.
Warm sugar, fat and syrup.
Make a well in the centre of the flour, and add syrup mixture, which should be just warm.
Add warmed milk, and lightly beaten egg, mix and beat well, and pour mixture into the tray.
Bake in a slow oven (160°C) for 3/4 to 1 hour.
Turn out, remove paper, cool, and cut into squares.
If desired, you can dust the surface with a little icing sugar.
Back to Cakes from Gingerbread Cake