Fruit Loaf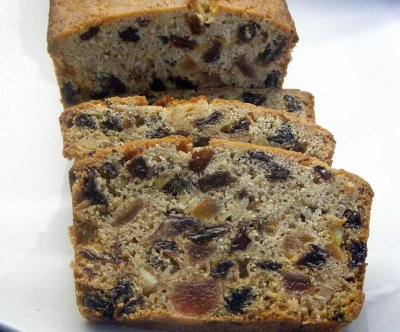 Ingredients:
4 cups plain flour
2 teaspoons salt
1 teaspoon cinnamon
1 teaspoon mixed spice
2 tablespoons sugar
30g compressed yeast
1/2 cup milk
3/4 cup water
1 egg
30g butter
250g mixed fruit
1 egg yolk
2 tablespoons water, extra
(This recipe makes 2 loaves)

Method:
Sift flour, salt, cinnamona nd mixed spice into a large bowl. Mix in fruit.
Place yeast in a small bowl, add sugar and stir until combined.
Add the lukewarm water and milk to yeast mixture. Stir until combined.
Sprinkle 1 tablespoon of the sifted flour over yeast mixture.
Cover bowl, standin warm place until frothy on top.
Make a well in the centre of dry ingredients, add beaten egg, yeast mixture and melted butter. Mix well.
Place dough in a clean bowl which has been greased lightly with oil.
Cover the bowl, and stand in a warm place until mthe mixture has doubled in bulk.
Turn out on to a floured surface.
Knead well.
Divide the mixture in half.
Knead each half into a smooth oblong shape.
Place in two greased 20cm by 10cm loaf tins.
Cover tins, stand in a warm place until dough reaches the tops of tins.
Brush tops of dough with combined beaten egg yolk and extra water.
Bake in moderately hot oven for 30 to 35 minutes.
Remove from tins, cool on wire rack.
Back to Bread from Fruit Loaf