Fluffy Chocolate Cake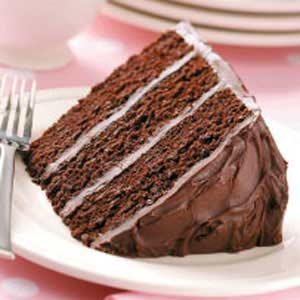 Ingredients:
125g butter
1/2 cup milk
3/4 cup caster sugar
2 tablespoons cocoa
2 eggs
1 cup self-raising flour
Rich Chocolate Icing (as follows):
2 Tablespoons cream
2 Tablespoons brown sugar
2 Tablespoons cocoa
1 cup icing sugar

Method:
Grease a deep 20cm round cake tin and line the base with paper.
Combine butter, sifted cocoa and milk in saucepan, stir over low heat without boiling until butter is melted.
Cool to room temperature. Beat eggs in small bowl with electric mixer until thick and creamy, gradually beat in sugar, beating until dissoled between each addition.
Transfer mixture to large bowl. Fold in sifted flour and cocoa mixture in 2 batches.
Pour into prepared pan.
Bake in a moderate oven for about 40 minutes. Stand for 4 minutes before turning onto wire rack to cool. Spread cold cake with icing.
Icing:
combine cream, sifted cocoa and brown sugar in saucepan, stir over low heat without boiling until mixture forms a smooth, thin paste.
Remove from heat gradually stir in sifted icing sugar.
Wait until cake cools, and then ice. This cake can be split in the centre and filled with cream and strawberry jam or fresh strawberries - or any variation.