Eggplant Steak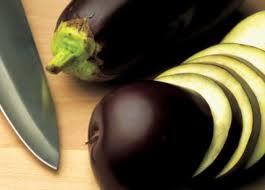 Ingredients:
4 fillet or sirloin steaks
2 Tablespoons oil
1/4 cup milk
2 Tablespoons oil
1 Tablespoon French mustard
4 clices eggplant (1cm thick)
1/4 cup seasoned flour
2 Tablespoons parsley butter
Method:
Spread steaks with fresh mustard and pan fry in hot oil.
Dip eggplant in milk and then in seasoned flour.
Fry until crisp and then drain on paper towel.
Serve steak on slices of eggplant.
Garnish with parsley butter.
Serves 4.
Parsley Butter:
Beat 120g butter till soft and add 2 Teaspoons finely chopped parsley.
(simple right?)


Back to Beef from Eggplant Steak