Dim Sum Buns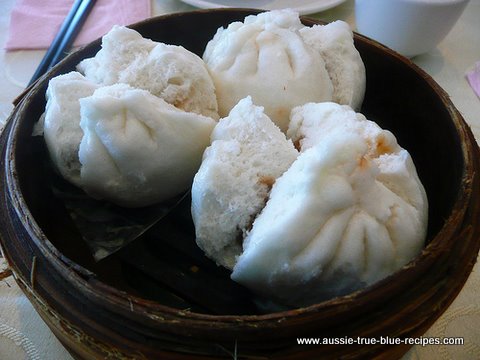 Ingredients:
1/3 cup very warm water
1 teaspoon granulated sugar
2 teaspoons dry yeast
1/3 cup sugar (separate)
1/2 teaspoon salt
3 tablespoons cooking oil
1/4 cup boiling water
1 large egg
Approximately 2 1/4 cups (550 ml) plain flour

Method:
Stir warm water and the teaspoon of sugar in a small bowl until the sugar is completely dissolved. Sprinkle the yeast over top. Let stand for 10 minutes, then stir to dissolve the yeast.
In a large bowl, stir 1/3 cup sugar, salt and cooking oil. Add boiling water and stir until the sugar is dissolved. Stir in a beaten egg and yeast mixture.
Gradually add in flour until a soft dough forms. Turn out onto a lightly floured board and knead for about 10 minutes until smooth and elastic. Place the dough in a large greased bowl, turning once to grease the top. Cover with greased was or baking paper and a tea towel (this will prevent the paper sticking to the dough when it rises).
Place the dough in a warm place to rise. My Chinese friend advised me to let it stand in the oven with the light on and the door closed for 2 hours or until doubled in bulk.
Punch the dough down, cover and let it rest for 5-10 minutes.
Shape the dough into a log about a foot long, and then cut into 12 equal pieces.
Chinese cocktail buns can be filled with many fillings - and this is the stage that the filling is added.
Fill, shape and leave to further prove for another 15 minutes.
Bake the buns for 15 minutes in a hot oven. Alternatively, these buns can be steamed in a Chinese layer steamer.

Fillings for Dim Sum Buns are left to your individual tastes and desires, however if you would like some inspiration, try some of these Dim Sum Bun Fillings that I have gathered over the years. These are my favourites, and the ones that I make myself to accompany dinner, whenever we are having an Asian or Chinese influenced meal. Back to Bread from Dim Sum Buns