Curried Lamb Chops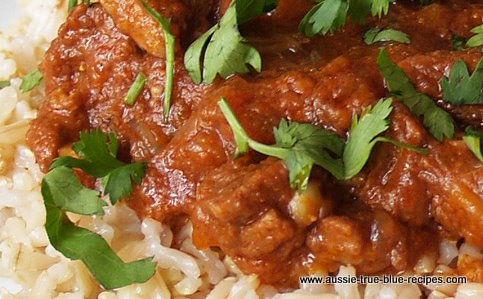 Ingredients:
6 lamb chops
1 tablespoon oil - or equivalent in melted butter
1 onion
1 apple
2 tablespoons sweetened coconut
1 heaped dessertspoon curry powder
1 heaped tablespoon flour
seasoning
1 cup skinned, seeded and chopped tomato

Method:
Trim off any surplus fat from the lamb chops. Peel, core and chop apple. Skin, seed and pulp tomatoes.
Fry chops in heated fat until lightly coloured. Add chopped onions when meat is half cooked and cook together.
Remove chops to a dish.
Add apple to pan and fry until softened. Stir in curry powder and flour, mixing well.
Cook together for several minutes.
Meanwhile pour boiling water over the coconut - use a basin and allow about 1/2 pint boiling water. Stir and leave steeping until required.
Add strained coconut-flavoured water to pan gradually, stirring until blended.
Return chops to pan, add tomato pulp and seasoning.
Cover pan with lid and simmer together for about 25 minutes.
Serve chops with buttered rice.
*You can use either loin or chump chops,and even cutlets from the best end of the neck.
Back to Lamb from Curried Lamb Chops