Creole Pork Casserole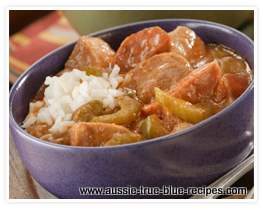 Ingredients:
The flavours in this Creole Pork Casserole will totally satisfy all those at your table. Served best with steamed rice, this is a delicious and hearty way to cook pork.
6 pork chops, cut 3cm thick
3 1/2 teaspoons salt
1 teaspoon pepper
2 tablespoons oil
3 potatoes, thinly sliced
2 onions, thinly sliced
1 green pepper (capsicum) sliced
1 clove garlic, crushed
500g tomatoes, chopped
1/2 teaspoon thyme
1 bay leaf
4 tablespoons chopped parsley

Method:
Rub the pork chops with 2 teaspoons salt and 1/2 teaspoon pepper.
Coat the bottom of a casserole dish with the oil.
Arrange the potatoes on the bottom. Season with a little salt. Place the chops over them. Spread the chops with the onions, green pepper, garlic, tomatoes, thyme, bay leaf, parsley and remaining salt and pepper.
Cover and bake in a 190°C oven for about 1 1/2 hours or until chops are tender.
Remove the bay leaf, and serve on a bed of rice.
Back to Pork from Creole Pork Casserole