Cold Spiced Prawns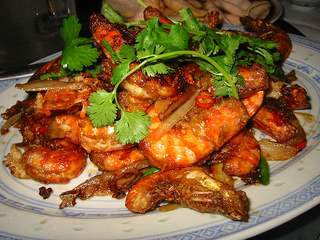 Ingredients:
(Cold Spiced Prawns are a delightful, refreshing appetizer - the perfect way to start off any dinner party. The prawns should not be kept longer than 6 hours in refridgerator prior to preparation and serving).
1 1/2 Tablespoons oil
500 grams green prawns, shelled & deveined
2 spring onions, chopped
1/4 Teaspoon ground ginger
3/4 cup chicken stock
2 Tablespoon tomato sauce
1 1/2 Tablespoon cider vinegar
1 1/2 dry sherry or white wine
1 Teaspoon sugar
Pinch of Cayenne Pepper
8 crisp lettuce leaves
Method:
Heat oil over moderate heat for 1 minute.
Add prawns and stir-fry for 2 minutes. Transfer to Platter.
Add remaining oil, then spring onions and ginger. Stir-fry for 30 seconds. Add stock, tomato sauce, vinegar, sherry, sugar and cayenne pepper.
Simmer and stir 3 minutes or until sauce has thickened.
Return prawns to pan, cook stirring 3 minutes longer. Pour the mixture into a bowl; cover and refrigerate for 4 hours.
Arrange lettuce leaves on platter, mound prawns on top. Chop reserved onion tops and sprinkle over.


Back to Entrees from Cold Spiced Prawns