Cinnamon Muffins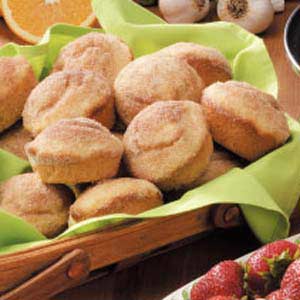 Ingredients:
3 cups plain flour
2 eggs
1 cup of milk
1 cup of sugar
5 tablespoons of butter
5 tablespoons of margarine
3 teaspoons of baking powder
1 tablespoon of salt
1/2 teaspoon nutmeg
Topping:
1 cup of melted butter
1 cup of sugar blended with 1 tablespoon of cinnamon

Method:
Preheat oven to 175°C. Place muffin cases in muffin tray.
Cream together the butter, the margarine and the sugar.
Beat the eggs, salt, nutmeg and baking powder and add to the creamed mixture.
Add flour and milk alternately until mixture is just combined.
Fill muffin cups to the top.
Bake at 175°C for about 20 minutes.
Allow to cool for a few minutes.
Dip each muffin, one by one, into the melted butter and roll in the cinnamon sugar blend.
Back to Muffins from Cinnamon Muffins