Choc Chip Muffins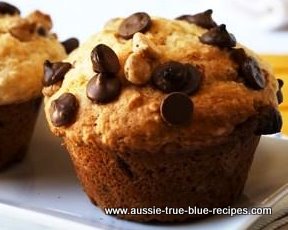 Ingredients:
2 1/2 cups flour
3/4 lb cocolate chips
1/3 lb soft butter
4 medium eggs
1 cup sugar
1/4 cup milk
1 tablespoon of baking powder
1/2 teaspoon of vanilla essence
1/2 teaspoon salt

Method:
Preheat oven to 200°C. Place muffin cases in muffin tray.
Beat the butter and the vanilla essence together to form a light, creamy mixture.
Add eggs, one at a time, alternating with 1/4 cup of the sugar, and beat gently.
Mix thoroughly.
Put the baking powder an dslat in the milk, then add to the mixture.
Fold in the flour and the chocolate chips.
Pour the mix into the muffin cases, filling each cup 2/3 full.
Bake for 25 minutes or until muffins turn golden brown.
Back to Muffins from Choc Chip Muffins