Squid in Chinese Sauce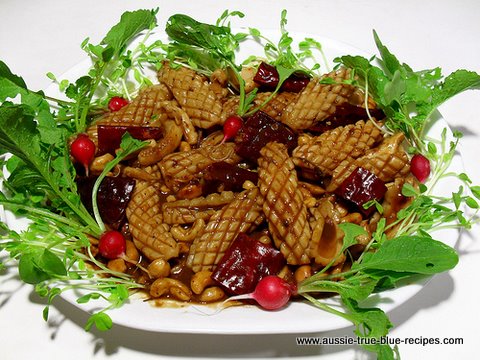 Ingredients:
This recipe for Chinese Squid is one of my children's favourites - and I happily make this meal for them because it's full of simple goodness and fresh vegetables....
750g squid
3 tablespoons butter
2 tablespoons oil
1 large onion, chopped in large pieces
1 clove garlic, crushed
2 shallots, chopped (spring onions)
1 large carrot, sliced
1 stalk celery, chopped
1 teaspoon grated green ginger
salt and pepper
2 tablespoons white wine
1 tablespoon cornflour
1 teaspoon brown sugar
3/4 cup concentrated fish stock
1/4 cup red wine
2 tablespoons oyster sauce
4 teaspoons soy sauce
chopped parsley

Method:
Prepare the squid by grasping the head firmly with one hand and gently pulling, the head and the inside of body will come away. Remove the bone and wash the fish under running cold water and rub off the skin.
Alternatively, if you don't have the stomach for this chore, you can just purchase the squid flesh.
Slice fish down the centre and lay pieces out flat with flesh side up.
Lightly score the flesh in a criss cross pattern to help tenderize.
Heat 1 tablespoon of butter and the oil in a pan, add the squid pieces and cook until flesh curls.
Remove from pan and drain on paper towelling, set aside.
To pan juices add the remaining butter and melt, add onion, garlic and shallots and saute until soft.
Add carrots, celery, ginger, salt, pepper and white wine.
Cover and braize over medium heat for 10-12 minutes, shaking pan frequently to avoid burning.
In a bowl mix cornflour and sugar with a little stock until smooth, gradually stir in the remaining stock, red wine, oyster and soy sauces and mix well.
Stir mixture over the vegetables and cook, stirring constantly, until boiling.
Return squid to the pan and heat through, basting with the sauce.
Serve sprinkled with parsley, accompanied by steamed long-grain rice (I love Basmati).
Back to Seafood from Chinese Squid