Chelsea Buns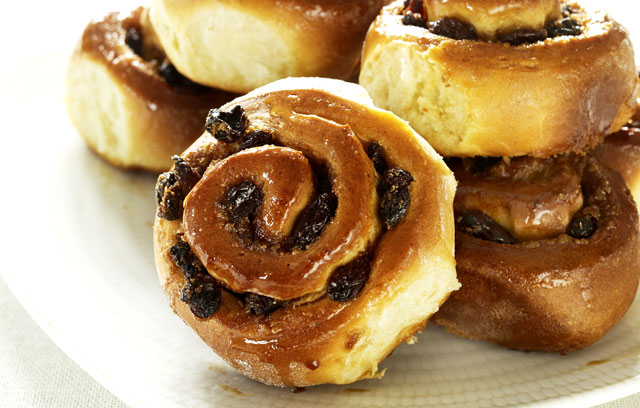 Ingredients:
12 oz plain flour
pinch salt
4 oz sugar
4 oz butter or substitute
1/2 oz yeast
1 tablespoon water
1 oz peel
1 egg
3 -5 oz mixed fruit
1/4 pint tepid milk or milk and water
1 oz sugar for glaze

Method:
Cream yeast with a teaspoon of sugar. Add tepid milk and a sprinkling of flour.
Leave in a warm place for about 20 minutes.
Rub half the butter into the flour, adding salt, 1 oz sugar and the egg.
Work in yeast liquid, knead lightly, then prove for about an hour or until twice the original bulk.
Knead dough again and roll out to oblong shape.
Spread with the rest of the butter, warmed, then sprinkle over sugar, fruit and peel.
Roll firmly like a swiss roll, then cut into 12 equal shapes.
Put onto greased and warmed baking trays.
Prove for 15 minutes, and then bake in a hot oven for 15 minutes.
Either dust buns with castor sugar or glaze them immediately they come fro the oven with 1 oz sugar mixed with 1 tablespoon water.
If desired, you can drizzle some pink icing over the buns for effect and added sweetness.
Back to Bread from Chelsea Buns