Crispy Cheese Fries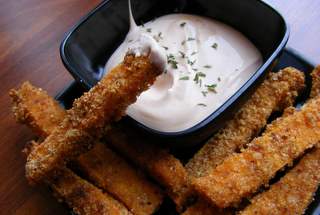 Ingredients:
These Crispy Cheese Fries can be prepared several hours before your occasion, however the frying of the fries should be done immediately prior to serving. These are a sensational appetizer, and will be talked about for weeks.
60 grams butter
1/2 cup plain flour
2 cups milk
salt, pepper
Nutmeg
1 cup Grinyre cheese, or other
Oil for frying
170 grams crabmeat, drained & flaked
2 Tb'spns grated Parmesan Cheese
2 Tablespoons milk
2 egg yolks
fried parsley sprigs to garnish
Breadcrumbs for coating
Method:
Melt butter in a pan, stir in the flour and cook for 2 minutes. Gradually add the milk, stirring constantly. Bring to the boil and add salt, pepper and nutmeg to taste. Add the cheese and stir until melted.
Remove from the heat and mix in the crabmeat and egg yolks. Spread the mixture in a shallow baking tin to a 1cm thickness.
Cover with foil and chill for 3 to 4 hours.
Cut the paste into rectangles about 4cm long. Beat the egg with the milk. Dip the cheese cubes into the egg mixture, then into the breadcrumbs to coat evenly. Heat the oil in a deep-fryer to 190 degrees and fry the cheese cubes in batches until crisp and golden. Serve hot, garnished with fried parsley.


Back to Entrees from Cheese Fries