Cheese And Sundried Tomato Muffins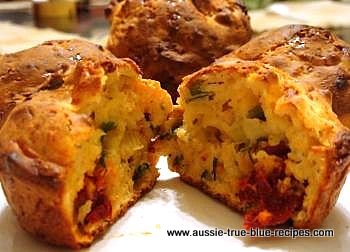 Ingredients:
80g butter, melted
1 cup milk
1 egg, beaten
1/4 cup toasted pine nuts (if desired
1/2 cup thinly sliced basil
1/2 cup sundried tomatoes, drained, coarsely diced
1 1/2 cups trasty cheese, plus 1/3 cup extra for topping
1 teaspoon salt
2 cups self raising flour

Method:
Preheat oven to 180°C. Place muffin cases in Muffin tray.
Sift flour and salt together into a large bowl. Stir in the cheese, tomatoes, basil and pine nuts.
In a jug, combine milk butter and beaten egg.
Make a well in the centre of the dry ingredients, and add the milk mixture all at once.
Mix lightly until just combined (don't over mix).
Spoon mixture evenly into prepared muffin tray, and sprinkle with extra cheese.
Bake 20 to 25 minutes until cooked when tested with a skewer or toothpick.
Cool in the tray for 5 minutes before transferring to a wire rack.
Back to Muffins from Cheese And Sundried Tomato Muffins