Cheese And Asparagus Flan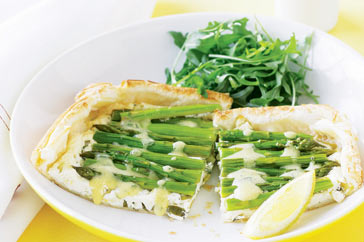 (Picture courtesy of taste.com.au)
Ingredients:
Small tin of asparagus
1 oz margarine
1 oz flour
1/2 pint milk
2 oz grated cheese
salt, pepper, mustard
parsley to garnish

Method:
Line a flan ring or sandwich tin with the patry and bake it "blind". Arrange drained pieces of asparagus in the case, reserving a few for garnish.
Melt the margarine and stir in the flour, cook for 1 minute, then add the milk gradually, stirring.
Bring to boiling point and simmer, adding almost all the cheese.
Season to taste.
Pour the mixture over the asparagus and sprinkle with cheese.
Brown under the grill and garnish with parsley.
Back to Salad And Vegetables from Cheese and Asparagus Flan